Car production down in 2019
Automotive_Industry_News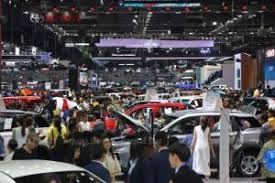 Car production fell 7.1% year-on-year in 2019 to 2.014 million units on contractions of both local sales and exports, the Federation of Thai Industries reported.
Surapong Paisitpatanapong, the FTI automotive industry club spokesman, said domestic sales in 2019 totalled 1.007 million units, down 3.3% on last year. It was the first contraction in three years.
"The local market has suffered from the rejection of auto-loan applications by local financial institutions. But many car distributors launched new models in the fourth quarter of 2019, so some bookings will be delivered to buyers in 2020," he said.
The club also reported that car exports in 2019 totalled 1.054 million units, down 7.59% year-on-year.
"Vehicle shipments were still higher than the club's projection of 1 million units," said Mr Surapong. Export value for the period stood at 545.97 billion baht, down 8.21%.
Mr Surapong said car exports in 2019 suffered from the US-China trade war that put pressure on the overall global economy and trade.
The FTI has a conservative outlook for car production in 2020, at 2 million units,with a 1-million projection each for both local sales and exports.
"The club is concerned by the many uncertainties over the trade dispute, while the baht's appreciation will influence bearish car exports in value terms, and US-Iran tensions will put pressure on car shipments to the Middle East," he said.
"And as for local sales, the drought situation will impact people's purchasing power," he said.
Source: https://www.bangkokpost.com/business/1841194/car-production-down-in-2019
News more