FTI sees 37% plunge in car production
Automotive_Industry_News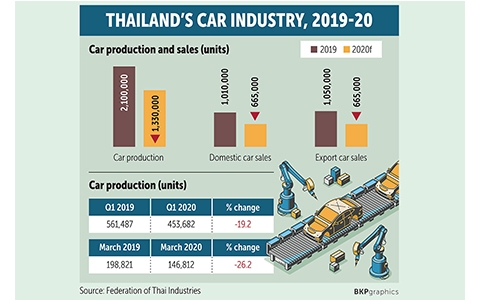 Car production is expected to plunge 37% to 1.33 million units this year, possibly sinking as much as 50% to 1 million if the coronavirus crisis drags into June, says the Federation of Thai Industries (FTI).
Surapong Paisitpatanapong, a spokesman for the FTI's automotive club, said the global spread of the virus has hit the automotive industry and related industries hard.
Of the 1.33-million-vehicle output this year, the FTI expects Thailand to produce 665,000 units for export and 665,000 for the domestic market. In January, the club estimated that 2 million vehicles would be produced this year, already a conservative outlook at the time.
Then in March, the club downgraded production estimates to 1.9 million units. "The FTI is waiting to see the full effects of the Covid-19 outbreak on the automotive industry," Mr Surapong said. "It's difficult to say at the moment."
Domestic car sales shrank for a 10th straight month in March, dropping 41.7% from a year earlier to 60,105 units. Sales in February fell 17.1% from the previous year.
Thailand is a regional vehicle production and export hub for the world's top car makers. For the first quarter of 2020 (January-March), the club said Thailand's car production was 453,682 units, a 19.2% year-on-year decrease. In March, 146,812 cars were produced, down 26.2% compared with the same period in 2019.
Read more: https://www.bangkokpost.com/auto/news/1906390/fti-sees-37-plunge-in-car-production
News more