From Smart Factory to Digital Transformation for conquering Digital Disruption
Articles_News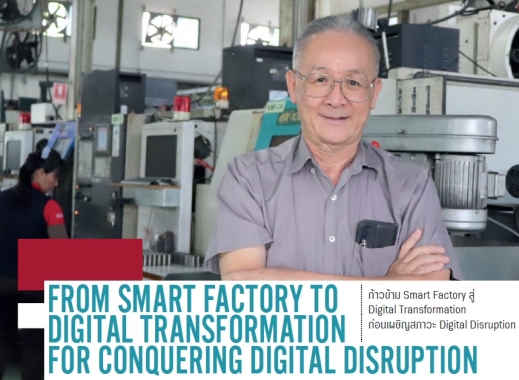 by Entrepreneur Development, Thailand Automotive Institute
from Automotive Navigatior Magazine issue Jan-Mar, 2020

Today, the editorial team of Automotive Navigator Magazine, has an opportunity to meet a brilliant executive and developer; Mr. Kamon Chutipongnavin, President – KMF Co., Ltd., with whom Thailand Automotive Institute (TAI) has known for over 10 years. The during the past 2 years, Mr. Kamon has been a special instructor at Thai-German Institute
KMF Co., Ltd. was established in 1980 as a small startup factory. Over 40 years, the company experienced many changes and faced various obstacles. Nevertheless, the company has been able to pass through those difficulties and become Tier 1 company. Our core business is auto parts production that supplies products to Isuzu Motors Co., (Thailand) Ltd.
I always have thoughts that human beings wait for everything before having a perception instead of self-learning. I would like to share philosophy or principle with operator that; "Some matters can be started by you; for example, doing, seeking, testing and much more. On the other hand, if you wait for others to provide them to you, you have to wait forever". This means you have to wait for others to hand on to you before you can move on. Moreover, with over 40 years of work experience, I have never waited for others. If I have thought, I can just do it. You need self-development in term of inside out not outside in. This is the philosophy or principle. Waiting for others means letting opportunity pass you by, some of which may be good ones, but you just ignore it.
I believe that in my whole life I do not have competitor, but instead I have business partner. However, as I see it, the formidable rival is Mr. Kamon of yesterday. Everyday, I have to compete with him. If I see others as competitors, I will not compete with myself. As a result, my work has been developed, continuously. Every day, that I compete with Mr. Kamon of yesterday, it will enhance and disclose my thought. Thing I don't know, I read and seek. This is my philosophy of doing business.

Are there any crises for the company throughout these years? What is effect of that? How do you handle it?
The first crisis that hit our business was in 1985. I had just started the business and It was during the time of Prime Minister Gen. Prem Tinsulanonda. There was credit control measure due to 18% of financial difficulty and ponzi scheme of Mrs. Chamoi's financial fraud case. Then, 12 years later in 1997, Tom Yum Koong crisis had effects on Thai economy followed by Hamburger Crisis in 2009, 12 years apart. According to statistics of Thailand, I have no idea what Thailand will face in 2021. From only January of this year, we know what will happen (the interview was in February 2020), but we don't know how severe of situation will be. In 2020, I believe that during the first half of this year will receive effect from corona virus, also known as Covid-19, because it comes from nowhere. Nothing can be foreseen what will be in the next couple years. Now, effects are increasing. Additionally, at the beginning of January, there were missile attacks. Are these crises? From my information, I believe these will be over next year. However, in every crisis, there are always opportunities which depend on whether we can see them. How can we solve these problems? My answer is if you cannot change in Digital Transformation, there are chances that you will be harmed from Digital disruption.
During the Hamburger Crisis, representatives of Isuzu Motors Co., (Thailand) Ltd. visited my factory. Order was lessened, distinctively. They asked me how to solve this problem. I told them I wanted to install computers in production lines in order to send data to me. They wondered because most companies would ask employees for time off. Yet, I saw this as a chance because I could ask them to do whatever I wanted. Once order came, we could operate and make production, immediately. That day was the time I knew TAI. Another visit from Isuzu, they saw computers in our production lines. As a result, Mr. Samart Mahaphol from Isuzu told representatives of TAI before they visited my factory.
Since then, I have not stopped for development. I have faced 3 crises and another one is coming which may or may not occur. Nevertheless, I believe this latest crisis is the most severe. Thus, I should help other operators with my experience and knowledge. Yet, there is only me in the team. I will help them with all my capability. Back to the question, it depends on how we prepare before occurrence of crisis. Do not wait until crisis comes to your door.
Do you have any plan for business expansion or to add more product line?
First of all, I would like to inform you that "this is my last interview as auto parts operator because I have made decision to fade out from this business". There is a company that will take place and has been acknowledged by Isuzu. It is a year that I have cleared everything from this business because I have worked for only Isuzu, but business I am going to do will help many operators by using Digital Transformation as a tool to assist them. Now, I am 62 years old. I have time to work until I turn 70. I will be able to help various companies. In the middle of this April, I expect that auto parts business will no longer be in my hand. I will move to Programming Software Development business and it will be reified within this year. I will also fully help TAI in human resource development as a former auto part operator.
This new business is no bed of roses because I still can't find someone to help me in Digital Transformation. I have to know more than the ones that I will help because they may not know how to solve their problems. For now, everything is on me and I have to do several things. It is difficult and hard to explain. This is because something has no lesson learned in university. Even curriculum taught in university cannot keep up with new or modern thing. Thus, it is hard for me to handle everything. I have to choose.
How do you know TAI? Have you ever participated in any activity or received service from TAI?
I have known TAI since the Hamburger Crisis. Isuzu invited TAI to visit my factory. At first, form the outside, my factory seemed to have nothing and small. Once they went to the production lines, they saw computers and staff monitored for correction parts, I started to know TAI from this. We discussed about problems; including software, which caused difficulty to most operators. As a result, TAI introduced Dr. Warapong Nertnoi who advised the program and I decided to use it. This software has been used because of TAI. If we didn't have that discussion, I would miss the cause of problem. It is almost 10 years that I have known TAI.
I am proud to be a part of creating Loss Reduction Process (LRP) program with Thailand Automotive Institute (TAI). In the past, LRP was only a small part of large programs of mine which used LRP's fundamental as basis. I am appreciated that TAI has placed LRP program in human resource development. In the future, if I have a chance to be a guest speaker for the topic of Digital Transformation, I will be able to explain where LRP is for building Digital Transformation.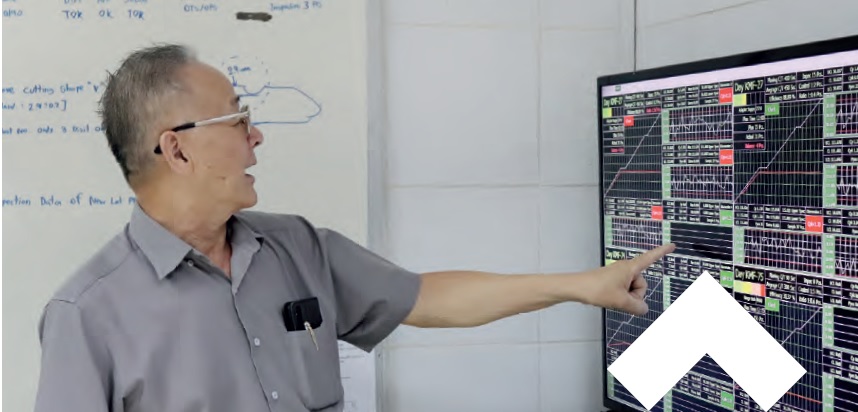 What is the key for Smart Factory? What is your motivation to move KMF forward to Smart Factory?
Actually, it has already passed through Smart Factory. Recently, I have been a guest speaker for the topic of Digital Transformation. I decided to choose this topic because there are confusions among academicians and operators. The prior one said we needed Digital Transformation; otherwise, we would have effects from Digital Disruption. Digital Transformation is about everything. Even for seminar; CEO Digital Transformation, it costed 80,000 THB for only fundamental content and there were 200 attendees. My question is what did you get for that price. That is why I think it is better if I give lecture to operators. Last year, Deutsche Gesellschaft für Internationale Zusammenarbeit (GIZ) brought a group of vocational teachers from 11 ASEAN countries from coordinating by Thai-German Institute (TGI) and I was a speaker. After the end of session, a representative from Vietnam told me that my lecture changed his life. I insisted him to bring what he had learnt to develop his country because I had done before and I knew. I don't want him to misunderstand about this and pass on to youth who are future of the nation. At the end of the day, a teacher came to me and said we had to save Mr. Kamon. Due to my age, I can only give lecture for the next few years. Lecturing consumes much my energy and I feel tire every time. Thus, I told this teacher that I would like to give lecture in Vietnam to pass on knowledge to him.
Back to Smart Factory, Smart is about modernity, but there is another word that needs to consider together; Slim. If your organization is Smart, but not Slim, it is worthless for reducing loss in production or LRP. In fact, it has been talked that Smart and Slim is Digital Transformation. If we separate Digital from Transformation, Digital is Smart. Is it alright to be Smart without using Digital? Or What will help us to be Smart without using Digital? Transformation is change. Being Slim is also modification. When analyze these words; Digital is Smart and Transformation is Slim, this causes misconception to most operators who purchase a program and assume this is being Smart. Although, they are Smart, they are not Slim. This implies that they are only being Digital, but not Transformation.
If TAI wants me to give a lecture about Digital Transformation, I am pleased but would like to invite executives or ones who can make decision for any change as audiences. I need audiences who bring and apply my concept, if they want to avoid Digital Disruption. At present, I am forming 2 companies and they will be used as models. They are considered and guaranteed from Bualuang SME. There are also some operators who still wait for aids from the government sector instead of standing on their own.
In my opinion, implementation of Digital Transformation is needed for becoming Smart Factory, where digital has to be built, initially. I call it Digital Standardization which consists of 4 digitals as follows

1. Digital Standard
2. Digital Control
3. Digital Monitoring
4. Digital Action
I have this platform and applied it for forming Smart Factory because before doing something you must know what your DNA is; for instance, What is DNA of Thailand? What is behavior of Thai? Definitely, we comprehend Buddhist way more than identity of foreign country. Digital Standardization is like moral, contemplation and wisdom. Moral is Standard which is standard of our DNA for over 2 millenniums. Meditation is Control. It lets you know the condition of yourself which is Monitor. Wisdom is Action. I usually meet gurus who argue with me; therefore, I use those 3 entities to make them understand before leading them back to the real problem. I discuss with them to find what the problem is and define that problem. In my opinion, problem is Standard that we still cannot control and there is gap which is problem, as well. Such questions, as where problem is and what standard is, reveal them to see gap of problem and let everyone see the same. If you can explain these, solving problem is simple. If you see gap, you monitor it. All these concludes why you cannot work. Without setting standard, gaps are dispersed.
If you complete all those 4 Digitals, you will be able to become Smart Factory by starting from the first point. Data Management is the most difficult to do. Every company has it and everyone has computer to key their own data. I call it Data Operation not Data Management. Platform of most companies consists flows of data. Everything depends on individual who brings his data for brainstorming. In fact, each company should have only 1 data and must be public one so everyone can use it, yet, this is the most challenging issue. You cannot move toward to 4.0, if you can't do Data Management. It is the key point. If there is mistake in your own data, no one knows because it cannot be seen from others. On the other hand, public data is shown to everyone and any mistake can be noticed, immediately. Since it is public data, your data is sent to everyone to do job; according to standardization. If you still do Data Operation, there is no hope for you to become Smart Factory because you cannot (แก้ไขในบรู๊ฟ) even pass through the first phase.
The second point : After you use 4 digitals for driving and organization has built Data Management, what you have to do is Data Transformation. You need to use data for working enhancement. This is the key point of every organization to reveal whether they can transform to Smart. Applying data is needed; otherwise, you will not be able to build Digital Transformation. Data will be only furniture. This is important.
The third point : Internet of Thing (IoT) is using electronic devices to connect or transfer data to one another by Internet system.
The forth point : Artificial Intelligence (AI) is the most difficult and everyone talks about it. However, if you pass over Data Management and jump directly to IoT or AI without data development, you are in the mode of modernization and data is only for display not for use.
If you understand the meaning of Smart Factory and how it builds process 4.0, you will not omit it; otherwise, you will be caught in a trap in other points. The same situation happened to me. I asked an operator what was the next and it was ended right there. People mention about 4.0. Everything is 4.0 and Digital Transformation. Nevertheless, if you still use Excel program, you are not in 4.0.
Now, I am at stage 3 and touching IoT. In the future, I will be able to upload database into Cloud. IoT is no longer a problem. At the end, I will get feedback back to AI which can decide a variety of things. At this point, it becomes more difficult. That is why I decide to leave auto part business. It consumes much energy. Actually, I have planned to do IoT since last year, but I was engaged with many missions.
My inspiration for developing company to become Smart Factory and moving forward to Digital Transformation is based on this phase; the last 20 years of work cannot be applied with other next 20 years. This means the same approach you have used for success of the last 20 years doesn't work for the next 20 years. You need change. Change your mindset because approach you have used before has nothing left to use for the next. You have to accept new thing, generation and technology. This is the starting point.
How long does it take?
Beginning form nothing, it has been 20 years, approximately. I didn't know what it is but I knew I had to change. I have no idea what I thought. I only knew that it should be changed.
What is subordinate's vision for changes?
Organization culture is our DNA which defines our working model. We wanted to do it like this and that and kept define it until it was time to change. They opposed it because they used to do it this way. Thus, we had to explain them. Some accepted that. Ones who couldn't take it, they found their new own directions. We had to train new generation. Back to 7-8 years ago, I thought that I failed to create human resource 4.0. Not until the past 2 years, I decided to recruit new Gen Y employees or Why Generation. As a result, they accepted and had good response because they grew up and were surrounded with technology. It took not much time to pass on knowledge to them. They are fast learners. In the past, if I wanted a manager to be in charge of production, it would take 5-6 years for coaching, while the Gen Y employee took only 10 months.
What is the direction of human resource development in the future?
Due to today technology, I think you should consider what kind of person you need. For the past 20 years, every organization sought for smart people. However, digital technology lessens their intellect. Thus, ones who work well are ones who have awareness. Digital concludes problem before sending to you. It is useless, if you ignore and have no response though you are intelligent. Once you are aware for what you receive and you have response, this creates Digital Action with it. From my viewpoint, you don't need very smart people because technology helps you most of all.
Would you like to suggest other operators who may be interested in becoming Smart Factory?
I would like to suggest that change is not enough. You need evolution of your own because change is inadequate for your business development. You have to reify evolution. Evolution is indeed transformation. It comes from your internal process. You must accumulate knowledge and have knowledge management. Evolution in your organization will be built when you have more knowledge. Then, it will lead to transformation. On the other hand, without knowledge and knowledge management, it is hard for you to have evolution in your organization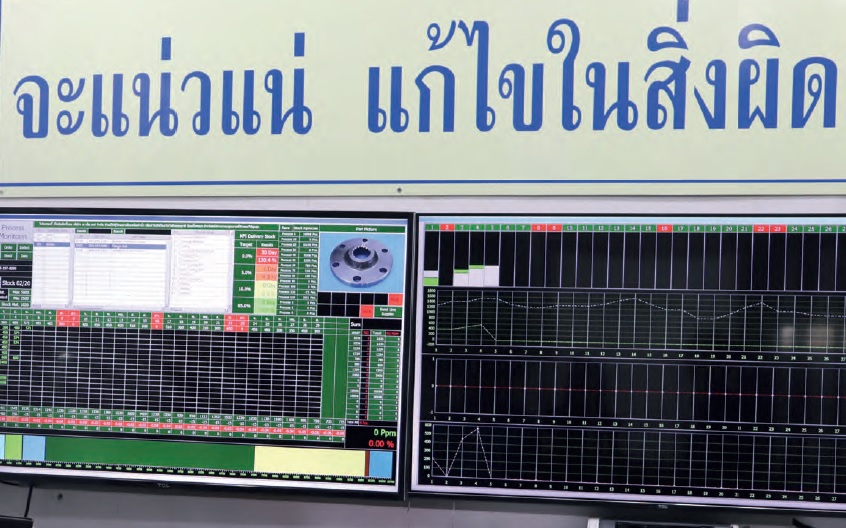 News more