Thailand Automotive Institute (TAI) revealed the Automotive Master Plan in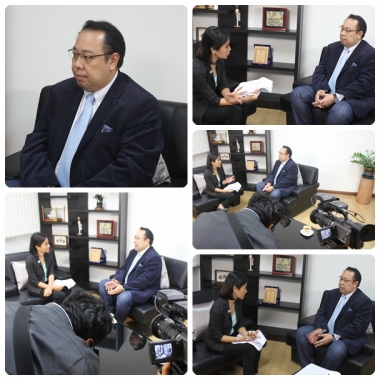 Thailand Automotive Institute (TAI) revealed the Automotive Master Plan in "Satani Kwarmkid"

On December 7th, 2012, Dr. Patima Jeerapaet, the President of Thailand Automotive Institute (TAI), gave an interview in "Satani Kwarmkit" (Station of Thought), which will be aired on next Friday at 10.30 – 11.00 am through NBT channel.

Dr. Patima Jeerapaet said current condition of Thailand automotive industry was remarkable throughout past 50 years, although we had faced with crises from last year and they impacted to the industry massively. By the government's policies that had supported the industry and double capacity of production for quick response to consumers' demand were all turned out to be a great opportunity for bolstering automotive industry in increasing production. "Until now, we have produced more than 2 million cars and take only 7 years since we reached the 1 million cars milestone in year 2005. 60% of 2 million car manufacturing is for domestic sale and 40% for export. Moreover other related industries have distributed large amount of national income such as auto part industry shares out around 0.8 billion Thai baht". He added.

Due to capability of the Thai government in solving the flooding situation and other factors; for instance, Technology of production, Qualified and skilled manpower, low rates of labor cost and materials in Thailand, all foreign automotive manufacturers assure of Thailand automotive industry and decide not to move their manufacturing base to other countries. Some have expanded their plants and set their production target even higher. In ASEAN, Thailand is the top of automotive manufacturing; followed by Indonesia and Malaysia, respectively and should be in this position because Indonesia's production is mostly for domestic sales. On the other hand, Thailand will increase the proportion of export up to 50% in the near future. Although, there is increasing 300 THB for minimum wage per day policy, it has no effect to the industry because the minimum wage per day in this industry has been upgraded in higher rate.

The Master Plan 3 (Year 2012-2016) is the roadmap to promote automotive industry into the proposed vision by applying the 5-strategic implementation to strive for the 3-excellence: Technology, Research, Development, High performance of human resources and the Strength of operators. In addition to focus on producing better environment by building of infrastructures, legislating laws and regulations and the supporting from the government's policies.

The President of TAI presented his point of view that adding up manufacturing capability should not be the major cause of traffics because not all 2 million cars we produced were in the traffic. Almost half of them were exported to international market. "We expect that in year 2017, our ability in manufacturing will reach to 3 million cars per year, which half of them is for export and the rest is for domestic sales. Moreover, based on Economy of Scale, the higher volume of production, the lower of production cost, this will be one of our advantages. Nowadays, Thailand is one of the top ten largest automotive manufacturing countries of the world. By this master plan, it will guide us to be the center hub of automotive manufacturing in year 2021. Thus, I would like everyone to keep up and support this industry onwards.

News more